June 24: Pride March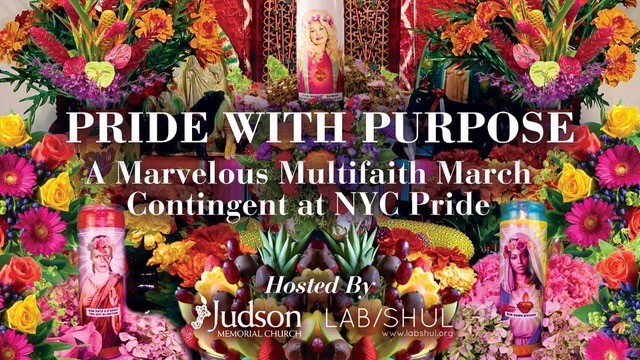 An Invitation from Rev. Micah Bucey
Minister, Judson Memorial Church
A bunch of us are hard at work, preparing for this year's Judson & Friends Pride March coalition to be our most fabulous yet.
The March itself is on Sunday, June 24th, but many of you have seen the Facebook listing for the lead-up events Judson is hosting (in addition to the big event on Pride Sunday).
We would love to have as many of you as possible for all three of these gatherings, and you can read more about each of them here.
Most importantly, we need a count for how many plan to march with us because, as of now, the March organizers are requiring all marchers to wear wristbands for entrance. I would love to have a somewhat-accurate way of tracking how many of us will need them.
You can RSVP for any and all of the events at the Eventbrite link on the Facebook listing or here.
Please let me know of any questions.
And see below for the listing of the three events in the body of this email.
With love, glitter, and communal fabulosity,
Micah
Saturday 6.23, 5pm – 7:30pm
PREP + CONNECT: Queer Icon Art Making
Gather the night before the March with a team of artists to make signs, make friends, share resources and supplies, and create all our fabulous accoutrement – including giant bedazzled icons of Queer saints, old and new. BYOB & Snacks.
***************************************************************
Sunday 6.24
MAKEOVER + MARCH: Main Event Fabulosity, times below
Gather before marching to grab a bite, caffeinate, glam up, and get centered with a multifaith kickoff ritual lead by all our Qlergy. **PLEASE NOTE: Due to security concerns, this year all marchers will be REQUIRED to wear an official Pride identifying bracelet. We have a select number of bracelets to distribute, but you MUST meet us at Judson no later than 2:30pm to receive one.
11am: Doors Open
11:30am: Multifaith Centering Ritual
12:30pm: Brunch, glitter, face paint, nail polish
2:30pm: Leave for March entrance – LAST CHANCE TO RECEIVE MARCH BRACELET
4pm: Service on the Streets: A Public Prayer Rally for Peace & PRIDE
5-6pm-ish: Begin Marching (our exact kickoff time will be determined day-of by the March organizers)