SUNDAY SERMON PREVIEW: "When Seeing is Not Enough" by Rev. Dr. Daisy Machado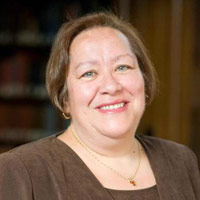 Dear Friends of The Park,
The texts for us this Sunday are packed full of action! In the Old Testament narrative we find Samuel looking for a new King for Israel. We find in the story a Samuel who despairs because King Saul has become so corrupt he has failed as king. And then Samuel despairs again when he looks upon Jesse's sons and cannot see any "kingship-material" in any of the young men standing before him. In the Gospel narrative we are introduced to a man blind from birth that Jesus heals on a Sabbath. This healing lets loose all kinds of reactions from his neighbors, his parents, and the Pharisees as it becomes clear that the blind man, who can now see, stands in the midst of those who having sight remain blind. In both narratives the main religious figures, Samuel and the Pharisees, though they have sight, remain blind to God's presence and God's intervention. They can't believe what they are seeing! Samuel's blindness had to do with his inability to see in the youngest of Jesse's son, David, what God saw. The Pharisee's blindness had to do with their rejection of Jesus and their rejection of the both the miracle and the man healed. In both texts we are shown that there are two kinds of blindness and one is more terrible than the other.
The truth is that nowadays we don't often spend much time in real darkness. If we're out at night there are streetlights or headlights to illumine the way. At home there's the comfort of light bulbs and the glow of TVs; even those who explore outdoors can take light with them. Yet if we carefully consider our lives, darkness is not all that strange to us. Circumstances can seem hopeless and we can't see a way out. We can sink into depths of depression and can no longer see an end to the despair. Sometimes we cower in the moral darkness of things concealed and secrets hidden from sight. This loss of sight, this kind of darkness is truly frightening. Yet all is not lost. We know this when Jesus clearly declares to his disciples, "I am the light of the world." We are reassured that when God's light shines in our lives, when we believe in that Light, we are given the power to be more than the darkness, to be more than the dust from which we have come. Join me on this last Sunday of Lent as we reflect upon these wonderful narratives that remind us that often seeing is not enough.
Readings on Sunday: I Samuel 16:1-13 and John 9:1-41
See you Sunday at The Park!
Rev. Dr. Daisy Machado