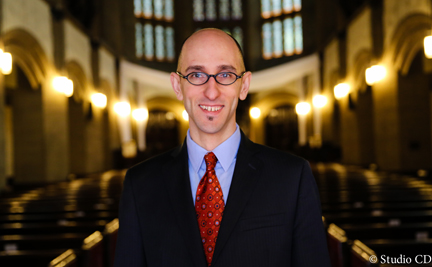 Paul Vasile, Minister of Music
Telephone: (212) 288-3246, Ext. 105
Email: pvasile@parkavenuechristian.com
Blog: www.lovedintobeing.wordpress.com
Twitter: @lovedintobeing
Facebook: https://www.facebook.com/#!/paulmvasile
Paul Vasile serves as the Minister of Music at Park Avenue Christian Church where he shares his passion for and knowledge of sacred music from a vast range of traditions and styles. As a versatile leader, Paul encourages the congregation's active participation in worship. Committed to innovative concert programming, he also serves as the Artistic Director of the church's Arts at The Park, a concert series that presents some of the region's finest performers and ensembles.
Paul's wide-ranging talents and musical interests provide frequent opportunities to perform as a concert organist, conductor, and collaborative pianist. Additionally, his compositions of sacred music have gained considerable attention in performances by choirs and congregations throughout the United States. Several of his compositions will be included in the new hymnal of the Presbyterian Church (USA), Glory to God, which will be published in late 2013.
Increasingly known as a dynamic presenter and worship leader, Paul facilitates workshops and conference sessions throughout the United States. He regularly serves as a facilitator for Music that Makes Community conferences that equip clergy, church musicians and lay people with song leading skills and insights into ways that communal singing strengthens community. He has also served as a visiting lecturer in Sacred Music at Eden Theological Seminary in St. Louis, Missouri and has developed and taught many unique education programs focused on the connections between music and spirituality.