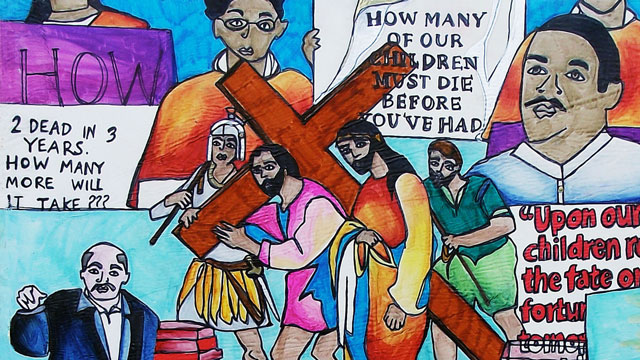 Dates: Wednesday, April 16 through Friday, April 18,
Time: 9:00 am – 6:00 pm
Location: Church Parlor, Park Avenue Christian Church, 1010 Park Avenue (at 85th Street)
Traditionally, the Stations of the Cross are a series of 14 paintings or carvings representing successive incidents during Jesus' progress from his condemnation by Pilate to his crucifixion and burial. In this adaptation, on display at The Park for a limited time, the artist Mary Button invites viewers to see Jesus' suffering in light of our modern practice of incarceration and imprisonment. Particular stations address: the War on Drugs, mandatory minimums, 3 strikes legislation, racial disparities in sentencing, the violence endemic in American prisons, the privatization of prison labor, and more.
For more information on this artwork, see http://stations2014.com/